In this video:
In this second presentation I will take you through The Core Issues Questionnaire (CIQ) – a worksheet that will help you quickly identify any core issues (usually from childhood) that lead to the growth of a problematic belief about yourself hidden within your subconscious mind.
Often, such beliefs grow from one or two highly charged emotional events in childhood and remain with you – preventing you from fully expressing yourself in the adult world.
The CIQ worksheet – on the sidebar to the right – requires you to take notes and answer some key questions listed on it. Make sure you download and print it off before watching the video.
Armed with your CIQ worksheet and your Basic EFT sheet, if you can't do it now, find 20 to 30 minutes of private time in the next few days to begin the process of dissipating any held over energy underpinning a problematic belief.
---
Bonus material:
Click on the button to the right – Ten Things About Your Beliefs – for an eye-opening summary of what your "beliefs" are actually all about.
---
In the next and last tutorial of this free series, I will provide you with a set of Natural Principles on which to grow a new set of beliefs that will encourage and nurture the best expression of you in the world.
In gratitude and appreciation of you, Chris.
---
If you know of someone who would benefit from this free series of tutorials, feel free to share using the social media buttons to the left.
---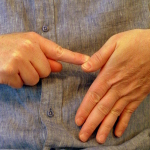 CLICK HERE TO RETURN TO VIDEO TUTORIAL 1.
---
CLICK HERE TO GO TO THE THIRD AND FINAL FREE VIDEO TUTORIAL – Getting you closer to Divine Love.
---